On Monday, we received our first square hearts and arrows cut diamond. It's just under a carat (0.87ct) and an F/VS1, with excellent polish and symmetry, as graded by the GIA.

As I'm sure I've mentioned before, square cuts are extremely popular at the moment. From asscher cuts, princess cuts to radiants, these square cuts are giving the traditionally popular round brilliant a run for their money – at up to 40% less!
Main Differentiating Factors Between Square Cuts
The main differentiating factors between square cuts are as follows:
Princess Cut – Brilliant with sharp corners
Asscher (Square Emerald) – Cut cornered step cut, for a more elegant look.
Cushion and Radiant Cut – Rounded or cut cornered brilliant cuts.
It should also be noted that a radiant or cushion cut can be set into a ring so it looks like a princess cut (eg corner claws). Similarly, a princess cut can also be set into a ring to make it look like a radiant or even cushion.
Contrast is King!
There are in fact A LOT of patented square and rectangular cuts, as it seems every diamond manufacturer has their own patented square cut that outshines the rest. One of these patented square cuts that we used to stock was the Aleya cut "with 81 facets to maximise light refraction". The problem was that the contrast was concentrated in the centre of the stone, and not evenly distributed throughout the stone, as shown in the Ideal-Scope picture below: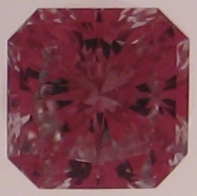 However, with our new square hearts and arrows diamonds, the hearts and arrows provides an extremely pleasing visual balance, combined with superior light return: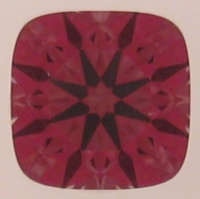 This particular square H&A is due to be set into one of our handcrafted diamond engagement rings and displayed in our Perth showroom (which will be redesigned shortly).