A recent editorial in Jeweller Magazine calls for the banning of jewellery valuations on new jewellery, arguing that a piece of jewellery bought for $700 one day can then be mysteriously valued at $4000 the next day. The article then goes on to say that jewellery is the only everyday consumer product that valuations exist for, since TVs or furniture don't have valuations.

Up until a few years ago, we had every loose diamond and piece of jewellery independently valued before it was given to the customer. Customers loved it. They may have bought an engagement ring for $5,000 and they'd receive a valuation for $10,000 – somehow thinking that by making a purchase with us, they had doubled their money. Off to the insurance company they then went, who were more than happy to insure the piece for the amount stated on the valuation.
This was simply wrong. However, nowadays we provide in-house valuations which list basic details along with a photo. The value stated on these valuations is what the customer actually paid for it. If after a few years, the customer wants another valuation, we will be happy to provide one based on what we would sell a similar piece for. This method leads to lower insurance premiums and removes any false sense of "buying something at half-price" or "doubling your money instantly".
Every week or so, we receive a phone call or email from someone wanting the sell their diamond ring. Almost always, there is a valuation stating that the piece is valued at X amount of dollars. Sadly enough, sometimes the seller says something like "It's valued at $7000, but I am willing to sell it at $6000". Our standard response to such phone calls or emails is to tell the seller that the valuation that they have is an insurance replacement valuation, and therefore the value bears no resemblance to what the cash value really is.
Unfortunately, the vast majority of people do not understand what a valuation is really for and why there are almost always inflated values stated on them. The truth is that valuations exist to benefit jewellers, insurance companies and the valuers themselves. Jewellers benefit from having their goods valued well beyond the selling price, insurance companies benefit higher premiums and valuers benefit from fees collected from what is usually a ten minute job.
Now I have no problem with professional valuers themselves. Most I have met are very experienced in the gemmological field, have the necessary tools to assess all kinds of gemstones and provide good advice to their private clients. Unfortunately, too many are merely jewellery salespeople, ill-equipped, as shown below.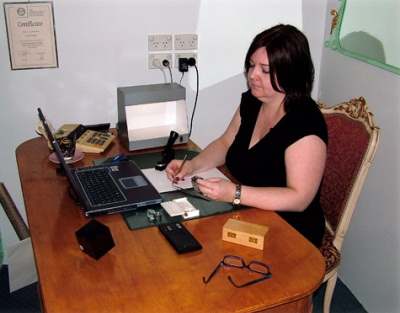 What is needed is for the a valuation to be more of an appraisal – that is a detailed document of a piece of jewellery describing the piece, its workmanship and its gemstones. If a value is required, this should be obtained by retailers or wholesalers – not just by looking up Bolton's Blue Book and adding an abitrary markup.
At the end of the day, the whole concept of jewellery valuations is ludicrous – it may take 15 years to double your money if you put your cash into a bank, yet somehow, with jewellery valuations, you can double your money simply by buying a piece of jewellery.