Earrings FAQ
How Do I Build My Own Earrings?
First, select the style of earrings you want. Then, either visit our List of Crossfire & Signature Series and/or International Selection Diamond Search to select a pair of diamonds.
What About Earrings with Smaller Diamonds and Earrings for $299?
We don't list smaller diamonds on our website, however, please send an enquiry with your budget and desired metal.
Are Your Earrings Premade? Can I Come To Your Shop and Look at Them?
We have samples of all the earring styles on our website on display. Please email or call us to make an appointment to try them on.
How Long Does It Takes To Make A Pair of Earrings?
If the diamonds and earrings settings are in stock, they will take one to two days to manufacture. If either the diamonds or settings are not in stock, then they will take one to two weeks to manufacture. Please email us to get a more accurate delivery date.
What are Guardian II Backs
Guardian II backs are push-backs that are as secure as screw-backs, but a lot easier to put on. They are an extra $150 inc GST.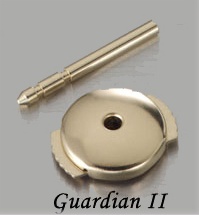 The Design I Want Isn't Shown Here - Can You Make It?
Yes, the earrings shown here are what we have in stock. Many clients either use our design service, send us a design or tell us to make a hybrid of the earrings they've seen on our site.