The diamonds in our signature series all come with downloadable microscopic photos.

In an attempt to more accurately represent these diamonds, we take two pictures – one with darkfield illumination (light coming from the bottom) and another with overhead fluorescent lighting.
Whilst the overhead fluorescent light is white, the bulb that we use for darkfield illumination is incandescent, as shown below. Therefore, the pictures will look yellow or brownish.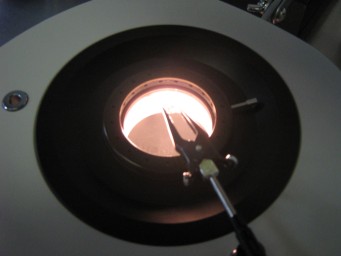 The advantage of darkfield illumination is that you can capture inclusions which simply can not be captured with overhead fluorescent lighting.