We recently increased the prices for our platinum engagement rings by $200 ($220 inc GST).

The reason being is that platinum has gone from about US$1100 at the beginning of the year to nearly US$1500, as shown below.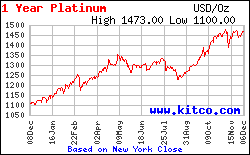 One of the main reasons cited for the increase in the price in platinum is the growing demand for use in catalytic converters, especially since people are starting to become more "eco-aware".
Although this price increase was simple, it is likely that in the new year we'll be increasing the prices on our platinum rings based on the size of the centre stone. By then, we also hope to have released our Crossfire branded engagement rings.
Of course, if the price of platinum is too much, there's always white gold. Although a lot of jewellers will try to sell you platinum (they make a lot more by selling platinum), 18ct white gold is more malleable, doesn't need an extraordinary amount of maintenance and a lot of people can not visually tell the difference between platinum and white gold. An excellent thread on Pricescope about white gold vs platinum can be found here.