We've finally added eight new diamond engagement rings to our site, bringing the number of designs, complete with multiple photos and videos to 51.

Since launching our new engagement ring section in September of last year, our workshop has been flat out, handcrafting engagement rings and earrings for customers across Australia and New Zealand.
With our easy to use ring builder, anyone can builder their own ring with our designs, using diamonds from our Crossfire Range, Signature Series or International Selection.
Of course, if you have your own design, or would like any one of the designs featured on our website to be altered in any way, we'd be happy to work with you.
Over the next month, we'll be adding even more designs, a ring builder for three stone rings and we'll also be making samples of our most popular designs, so that our clients in Perth can physically try our rings on before they buy.
In February, I wrote about our most popular engagement rings. Well, since then one design has stood head and shoulders above the rest in terms of popularity: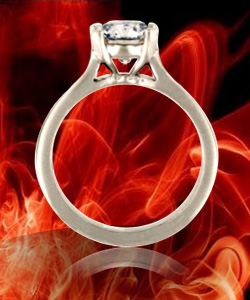 La Nita, inspired by a Tiffany design, and meticulously modified by the ring's namesake to a more modern look, features seven princess cuts on each shoulder and a classic four prong setting. In fact, La Nita has been so popular, that we've made two spin-offs.