Over the past few months, our international selection has seen a huge increase in popularity. For those who don't know, our International Selection are diamonds sold through manufacturers, cutters and wholesalers overseas, with us acting as brokers.

Whilst this method of buying breaks from the traditional method of going into a shop, picking a ring or a loose diamond, there are many advantages of buying this way, including:
The cheapest possible price due to the fact that we have no cost in keeping stock. Our margins on our International Selection stones may be as low as 10% – a far cry from the old days when jewellers made margins of 100% and over.
Better selection to choose from. Almost any possible carat/colour/clarity/cut combination can be bought from our International Selection, however, that's not to say there are situations where we simply can not find the exact combination, especially in oversized and off-sized stones (eg 80 points or 1.4-1.49ct).
We can get quite a bit of information on the diamond prior to importing it, including proportion information (from which we can get predicted Ideal-Scope and ASET images) and sometimes even microscopic photos.
Why International?
Because Australia is such a small market for diamonds, there is usually very little in terms of high quality (in terms of light performance) diamonds available. Whilst some customers may want to view, or "pick and choose" from a number of diamonds, buying diamonds on the international market produces a much better end result than choosing from a number of not-so-well cut diamonds on the local market.
Success Stories
Whilst there are plenty of examples, these are two really great ones.
The first involves a 2ct D/VS2 Asscher cut diamond. This stone (which we actually video taped) was an ideal cut, but had strong blue fluorescence. After getting Sarin (proportion) information, running that through DiamCalc and confirming the stone wasn't milky or hazy, the stone was sent to us and it turned out to be a beauty! After a couple of weeks, it was set into a Tiffany Lucida type setting, as shown below.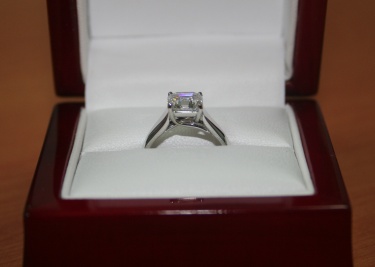 All up, the ring cost just over $18,000 – a price unheard of, even to us.
The second involves three diamonds for a three-stone ring. The centre diamond was 1.50ct, and the two side stones, just under 1ct, all were GIA triple excellent and scored an AGS 0 using our performance grading software. However, they were all SI2's. Whilst the two side stones were easy enough to pick out, we knew that an eye clean 1.5ct, ideal cut SI2 would be difficult. However, after a week or two, we finally found the perfect stone with twinning wisps (as you can see in the picture) which was totally eye clean.