For about six months now, we've mostly been selling hearts and arrows round diamonds, as opposed to non-H&A round diamonds. Now that we've made our Crossfire round diamonds H&A only, we thought it time to introduce hearts images to complement our Ideal-Scope arrows pictures.

Since there's no "off-the-shelf" solution, we had to experiment and see how best to capture the hearts images. After much playing around we finally settled on using a "cheap" H&A viewer, with the magnifying glass taken out, resting on the case of a Presidum gauge, as shown below: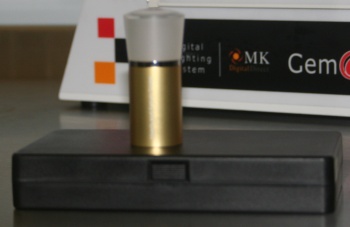 Because we have carpeted floors, the trick was to keep the camera steady in the tripod whilst the picture was taken. At times we also need to clean the diamond.
As for the defintion of H&A, we loosely base our definition on these guys' definition. The main points are:
Uniform hearts.
Clear separation between the hearts and the chevrons.
No clefts more than 10% of the heart length, and no more than two clefts under 10%.
We also believe that hearts images are the only way to truly grade hearts and arrows. Sarin and OGI machines are usually notoriously bad for measuring hearts and arrows, therefore, many lab graded H&A stones may not even be H&A.
Although we are only posting hearts images for new diamonds, customers can request hearts images for all our "old" diamonds by email.