One of the things I've always wondered was how popular certain shapes of diamonds really are. So, I decided to gather statistics from our diamond search and see how many searches were performed on each shape.

These statistics come from about a month of searches, so give a reasonable snapshot of what people are searching for.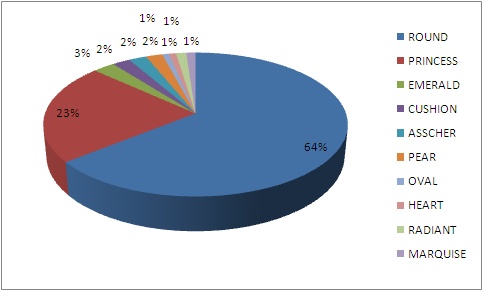 As you can see, round brilliant diamonds make up 64% of the total searches, whilst princesses only make up 23%. Since almost half of the diamonds we sell are princess cuts, it is quite surprising to see princesses so low.
Apart from rounds and princesses, emerald, cushion, asscher and pear shapes make up the majority of the rest, with oval, heart, marquise and radiant only making up 1% each.
I predict with diamond prices getting more expensive, that rounds will soon fall below 50%, with princesses, cushions and asschers becoming more popular.