By the 1st May 2008 Auscert will have finally put into place the last pieces of a game plan to enable it to launch a project known as the "Fair Trade Diamond Fund". (The first of its kind in the world).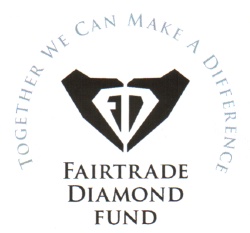 This innovative project has been designed so that everyone in Australia involved in a diamond's journey has the opportunity to donate money to the fund.
All monies raised will be used to repair the damage done over the past years from the blood diamond trade and assist today's diamond miners in Africa, living in poverty with only the very basic requirements for life. Monies raised will be used to build houses and schools, dig wells, provide adequate medical services and many other worthwhile projects. The distribution of the funds raised is overseen by The Rapaport Group. Martin Rapaport has established "The Fair Trade Diamond and Jewellers' Council" that has people positioned in key areas to make sure the funds reach the intended persons. For more information visit www.diamonds.net/fairtrade.
From May 1st all diamonds submitted for certification at Auscert will automatically have donations made for them by the participating brokers and Auscert. Once the full certificate reaches the retail level it will contain a reply paid envelope that invites the retailer and buyer to make their contributions. E.F.T. details will be available but we believe it will be easier to include the client's contribution within the final invoice and then for the retailer to issue a cheque for both amounts directly to the fund.
Auscert and all the participating brokers have also decided donations will be made by them for all certificates issued prior to May 1st 2008 if donations are lodged from the retail level.
A webpage www.ftdfund.com will be available for more information. Clients will also be able to track and verify their donation on the site.