Today we received two 2ct+ diamonds. Whilst both were very nice, one was remarkable, that is, worthy of a remark, or in this case a blog.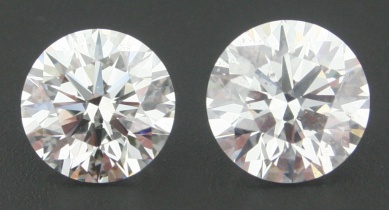 On the left, we have a 2.19ct G/SI1, and on the right, we have a 2.51ct D/SI2.
Whilst both gained an AGS Ideal grade in light performance, what made the 2.51ct remarkable, was that it was totally eye-clean, which in that size is very rare, and it had strong blue fluorescence. Despite having strong blue fluorescence, as described in an earlier blog, it was barely visible, if at all.
What this all means, is that that in terms of visual performance, the 2.51ct was bigger and whiter than the 2.19ct, and, it was also about 10% cheaper.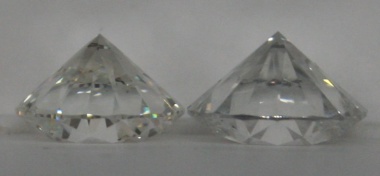 As you can see above, the G, even though it was given an F by our colourimeter, looks slightly more yellow under white light than the icy white colour D.