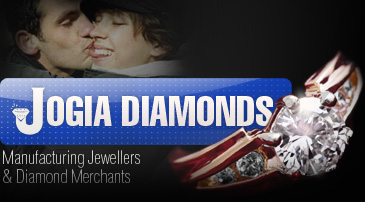 Australia's Oldest Internet Diamond Merchant
Follow Us on Twitter!
|
Like Us on Facebook!
Email Us
|
Site Map
Phone: 1800 722 237 (Within Australia)
The Jogia Diamonds name has been synonymous with high quality certified loose diamonds and engagement rings for over thirty years.
Home
» Welcome to Jogia Diamonds International
Up To 12 Months Interest Free
We offer 12 months interest free on our Crossfire & Signature Series diamonds and jewellery. Apply online now and get a response in less than 60 seconds.
Conditions, fees and charges apply. Please click here for more information.
The Jogia Diamonds Difference
The Jogia Diamonds name has been synonymous with high quality certified loose diamonds, engagement rings and diamond earrings for over thirty years.
With our showroom and laboratory located in the heart of Perth, we specialise in GIA and AGS certified, ideal cut round brilliant and princess cuts, but also offer over 80,000 loose diamonds for sale through our International Selection at below Australian wholesale prices, as well as a variety of diamond engagement rings.
Our special prices, usually at a significant discount compared to traditional retail shops and stores are available thanks to lower overheads, state of the art IT systems, and, because we buy directly from the manufacturer, we eliminate the middleman.
At Jogia Diamonds, we realise that buying a loose diamond or diamond engagement ring over the internet can be a daunting process. That's why we've made it easy by providing:
Photos, videos, Ideal-Scope images and other analysis downloadable for our Crossfire & Signature Series diamonds.
Videos and photos from multiple angles of our engagement ring designs.
Relationships with jewellers and appraisers in Sydney and Melbourne
All this allows us to deliver an experience that is equal to, or even better than buying a diamond or engagement ring from a traditional brick and mortar store.
Of course, if you live in or are visiting Perth, please feel free to drop by, have a coffee and look at our range of Crossfire & Signature Series diamonds.
So, whether you are looking for cheap diamonds, or the highest quality diamonds, our diamond database empowers you to select the diamond that is just right for you.
Currently, our diamond database features Round Brilliant, Princess Cut, Cushion Cut, Asscher, Emerald, Radiant, Marquise, Oval, Pear and Heart shaped diamonds. For other shapes, please feel free to email us.
Conflict Diamonds
Jogia Diamonds guarantees that our diamonds and diamond jewellery are conflict free. It is our policy to buy diamonds from reputable, well established diamond manufacturers and wholesalers who in turn guarantee us that the diamond they sell us are conflict free.